Go to kcrtrocks.com (click "Listen Live 92.5″) Wednesdays between 8 and 10 p.m. (MST) to hear the Trinidaddio Blues Hours with hosts Ken Saydak and Darnell Miller.
Welcome to the official website of Ken Saydak, pianist, singer, songwriter, recording artist, producer, and trout savant. If you are visiting the site for business purposes, please use the menu to guide yourself to pertinent information regarding the musical career, products, and booking. If you are here for impertinent information, head straight to "The Soap Box." It is here that you will find the fruits which are borne by the tree of forty-plus years of being an American musician. Here you will learn the true cost of one too many road trips. Look around, come back soon, and bring some friends. Thanks for stopping by.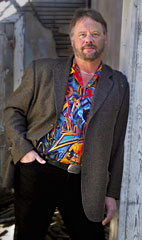 KEN SAYDAK has enjoyed a nearly forty-year career as a musician, writer, vocalist, and producer. His work as a pianist and organist on over fifty albums is well known in the national and international blues scene. His 2005 release It's My Soul, on Evidence Records follows his two previous CDs on the Delmark label, Love Without Trust and his solo debut Foolish Man. All of his recordings showcase his instantly recognizable vocal and piano styles as well as his insightful and engaging songwriting. A co-producer of the two Rounder Records CDs with his 1990′s American roots band, Big Shoulders, Big Shoulders and Nickel History, he continued his growth as a producer on both of his own Delmark CDs as well as the label's critically embraced 2000 release, Learned My Lesson, for Chicago blues singer Zora Young.
Ken's career as a performer has taken him to concert and festival stages on four continents, including tours and appearances in Israel, South Africa, France, and Switzerland. The list of artists who have enlisted his talents include Johnny Winter, Otis Rush, Willie Kent, Lonnie Brooks, John Primer, Mighty Joe Young, Billy Boy Arnold, Sam Lay, Dave Specter, James Wheeler, Tad Robinson, Lurrie Bell, Johnny B. Moore, and Karen Carroll.
About It's My Soul, his 2005 Evidence Records release:
"Ken Saydak has built an impressive body of work with his three solo albums and his studio work…It's My Soul is his best stand-alone project yet"…
Chicago Sun-Times
"Though veteran session man and Big Shoulders bandleader Ken Saydak has left Chicago, his commitment to America's greatest music remains unabated. On It's My Soul, the singer-songwriter-keyboardist bolsters the canons of blues and roots music with a dozen compelling new songs, delivered with gruffly good-natured vocals and towering piano and organ performances….It's My Soul is an excellent listen."
Blues Revue, June/July 2006

"…it reaches back through labels and categories to clutch the still-pumping heart of the simple and glorious music that became rock 'n' roll – the seminal, simmering soul stew bursting with different but related flavors: the twangs of country music, the tangs of New Orleans R&B, the heart pangs of gospel, and the ka-bang! of the blues…
All About Jazz
"Vocalist/keyboardist and Windy City blues vet Ken Saydak is a gripping frontman…"
Billboard Magazine
About his previous work:
"With a rock-solid left hand pumping out the rhythms and a right hand that lightly caresses the keys one moment and pounds them into boogie-woogie submission the next, he demonstrates why the piano has retained a prominent spot in the blues world despite the glut of guitar slingers."
Blues Revue Magazine
"Our man is a true blues pianist all around, at the same time soft and deep, a worthy heir to Otis Spann, a champion of an instrument which has lost its prestige. In addition, he's a sensitive composer, occasionally autobiographical, absolutely gifted for socio-economic or philosophical vignettes about daily life and human relationships."
Soul Bag Magazine Paris
"Frontman Ken Saydak has a huge, gruff vocal delivery and a flair for writing involved, strong compositions that – while blues-drenched – are often lyrically uplifting and musically complex. Saydak looks far beyond booze, cheating, partying and heartbreak for inspiration."
Twin Cities Reader
"Ken Saydak is an artist and a poet."
Al Lewis - KBAI-FM New York City